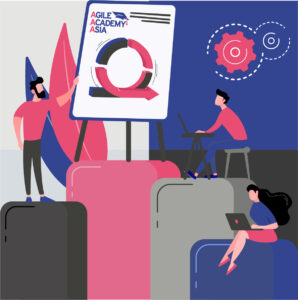 Asia Agile Academy provides a variety of training courses to help your company implement the right agile mindset. Our courses range from beginners to agile experts. We have standard courses to provide and they can also be tailored according to specific training requirements.
Fill in the form to get into contact with us

THE FIRST STEPS INTO AGILE
This training is specifically designed for delivery to all members of companies who have an involvement in the development of software, systems, processes, and products. Be more effective, more customer minded and achieve a higher success rate of your projects.
HOW TO BE AN ALLROUND AGILE PROFESSIONAL
The AMC program is developed to anticipate on the growing demand for Agile transformation expected for (large) Asian companies. By training Agile professionals now, the candidates will learn all the basic and advanced skills that are required to be of value.

AGILE TRANSFORMATION PROGRAM
HOW YOU CHANGE INTO AN AGILE MINDED COMPANY
This program will help companies to get organize in a way so they will be able to react and anticipate adequately on changes in their (competitive markets) and changes in their customers need.
AGILE LEADERSHIP TRAINING
The Agile Leadership Training is a hands-on workshop that uses a combination of instruction and hands-on exercises to help managers and other leaders who work directly with agile teams understand how to best support, guide, and coach their teams.

A SCRUM MASTER CAN MAKE THE DIFFERENCE
The Professional Scrum Master course is for anyone involved in product delivery using the Scrum framework. It is particularly beneficial for those people within an organization accountable for getting the most out of Scrum.
GET CONTROL AS A PRODUCT OWNER
The Professional Scrum Product Owner course is suitable if you are responsible for products from a business and product management perspective and taking the role of Product Owner within the Scrum framework.